Overview
Data may be the new oil, but none of us need more unrefined data. There isn't a dearth of data, even in this "new normal." We're inundated with descriptive datasets – many of which can even be garnered from publicly available sources. Or worse, data that hasn't been vetted for consumer consent or adequate processing to ensure accuracy. As macro indicators are in flux – GDP, oil prices, you name it – it's even more important to consider the source and granularity of the data to and ensure it can support complex research questions.
You need real-time, refined, and differentiated data that brings intelligence to your models and not just inferred patterns. For example, retail stores are taking a hit, but do you know how that traffic is converting to online demand? Not all retailers will lose as quick-serve-restaurants such as Subway are showing dramatic gains in App Installs.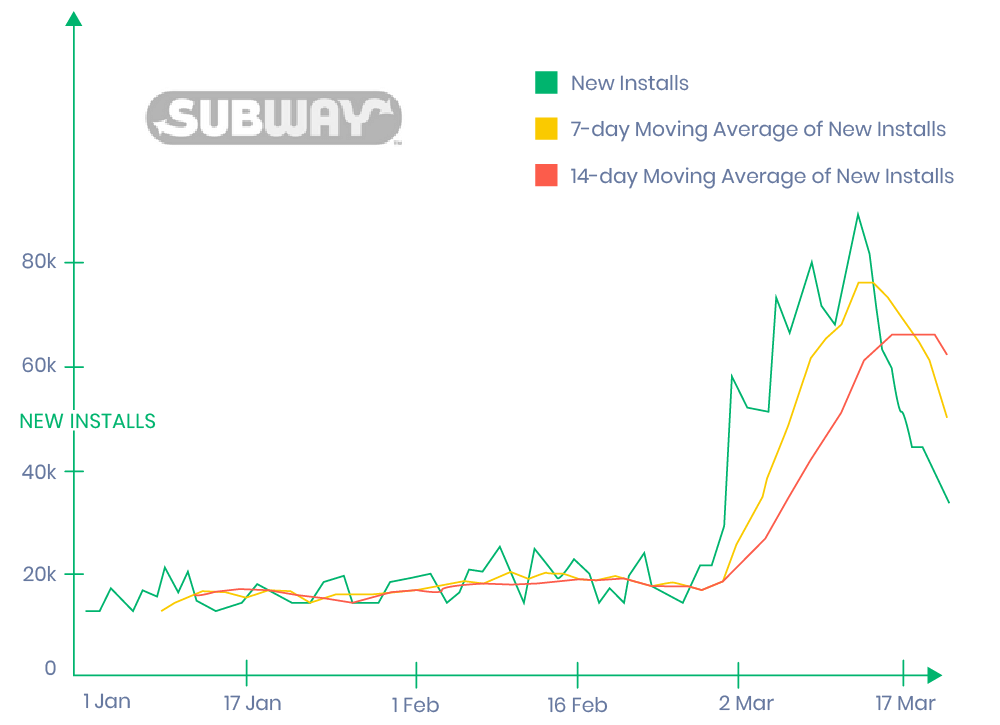 Consumers are changing buying and movement patterns each moment-to-moment level based on the daily news. In this blog, we will explore 3 facets of TruFactor intelligence - Application Ownership, Web Sessions, and Visits – and how they combine to show a complete and predictive view of consumer trends.
It is important to note that while data is recorded at a user level, all data is anonymized to ensure that individuals can never be re-identified. You can read more about the patented anonymization platform and processes here.
How Does Our Intelligence Achieve Alpha?
There are 500+ alternative data players in the market. And most of the data is exactly that – it's alternative. In periods of market stability and growth, these data sources can play a role. Yet today's research questions are much more nuanced. Health and economic conditions are changing and evolving at different rates within communities.
Large asset management funds and the analytics platforms that those funds rely on are partnering with TruFactor on key research questions that they couldn't answer from other vendors delivering inferred trends and/or using mobile SDK data. TruFactor intelligence delivers:
Combination of 38 billion location and 47 billion digital signals of consumer behavior at a granular level
Population extrapolations that are more accurate and predictive given the scale of devices and users
"Always-on" daily updates, with event timestamps to map signals back to events and trends
TruFactor App Ownership intelligence includes install and uninstall events with timestamps to provide a rich history of user's interests as well as overall population behavioral tends. Install and uninstall times, most recent app package version code and app installer reported, date app package was last updated are also included. This scale enables tracking within a category (i.e., food delivery) which delivers insights into consumer preferences as well as specific players (different apps – winners, losers, or standing still).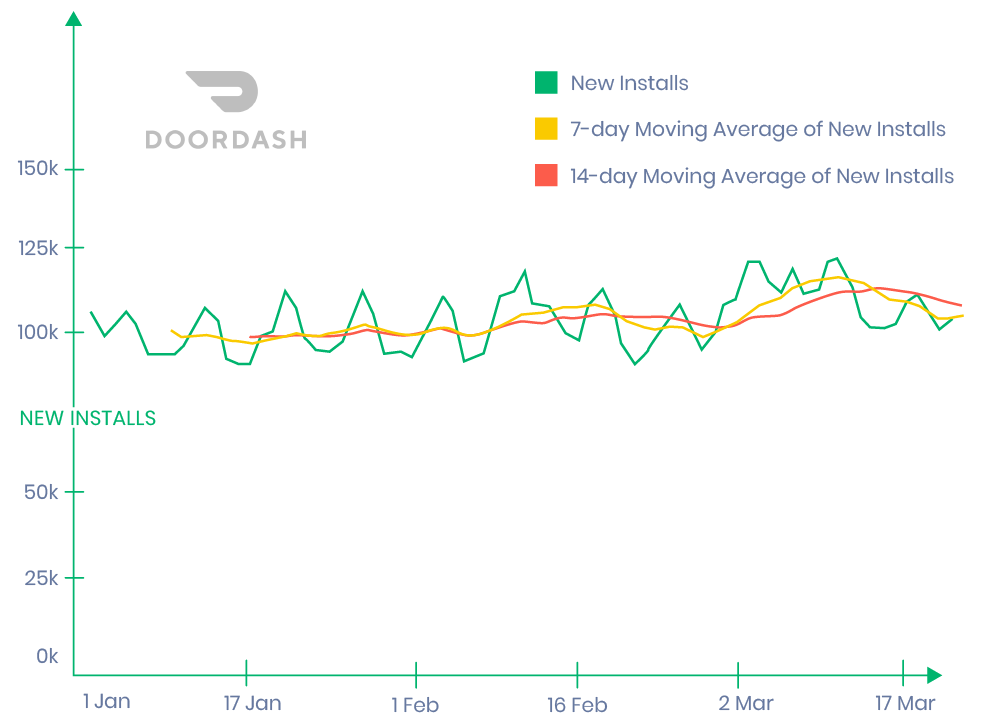 .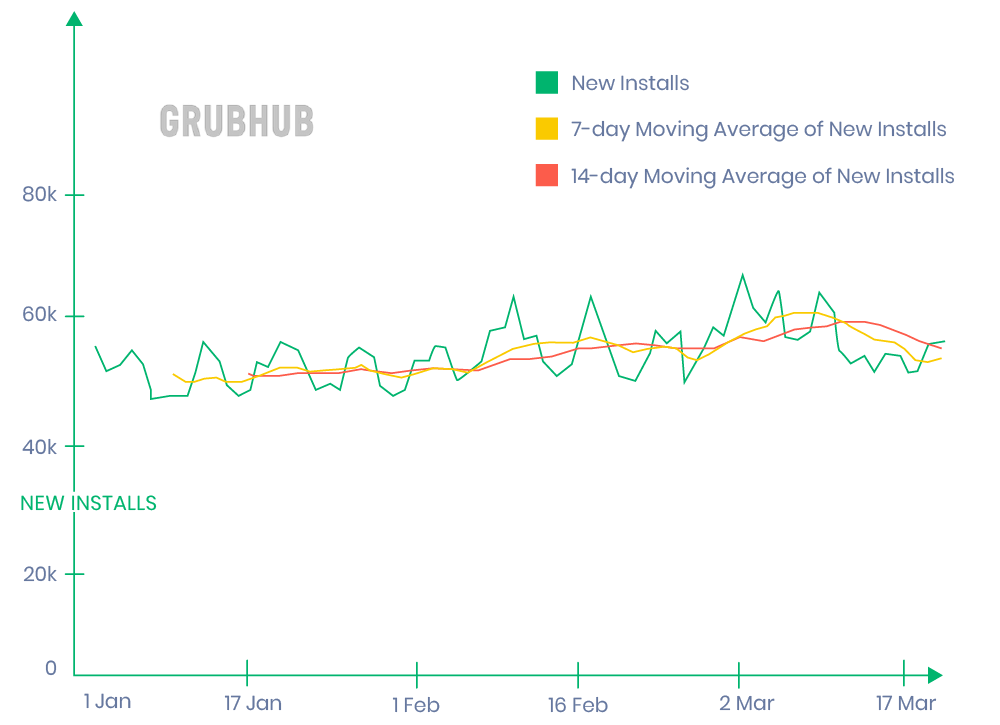 Additionally, since App Ownership changes over time – a persistent view into users is needed to capture both what a user installs and un-installs. Most data providers only have access to installations – and, at best, may make some assumptions about un-installs. However, these extrapolations will miss key events or responses to trends. Therefore, install-only data will fail as an inaccurate predictor or even an early indicator of behavior changes.
In the view below, we show counts of un-installation data for Facebook and daily stock price, mapped to key public events. In periods of stability, it's possible that surface-level metrics around digital behavior is enough to capture relatively smooth trends. As shown in the chart below, the uninstall rate for Facebook spikes at two key events. In periods of volatility – whether at a company or a macro level – more granular signals trended over time are more valuable indicators, especially in predictive models.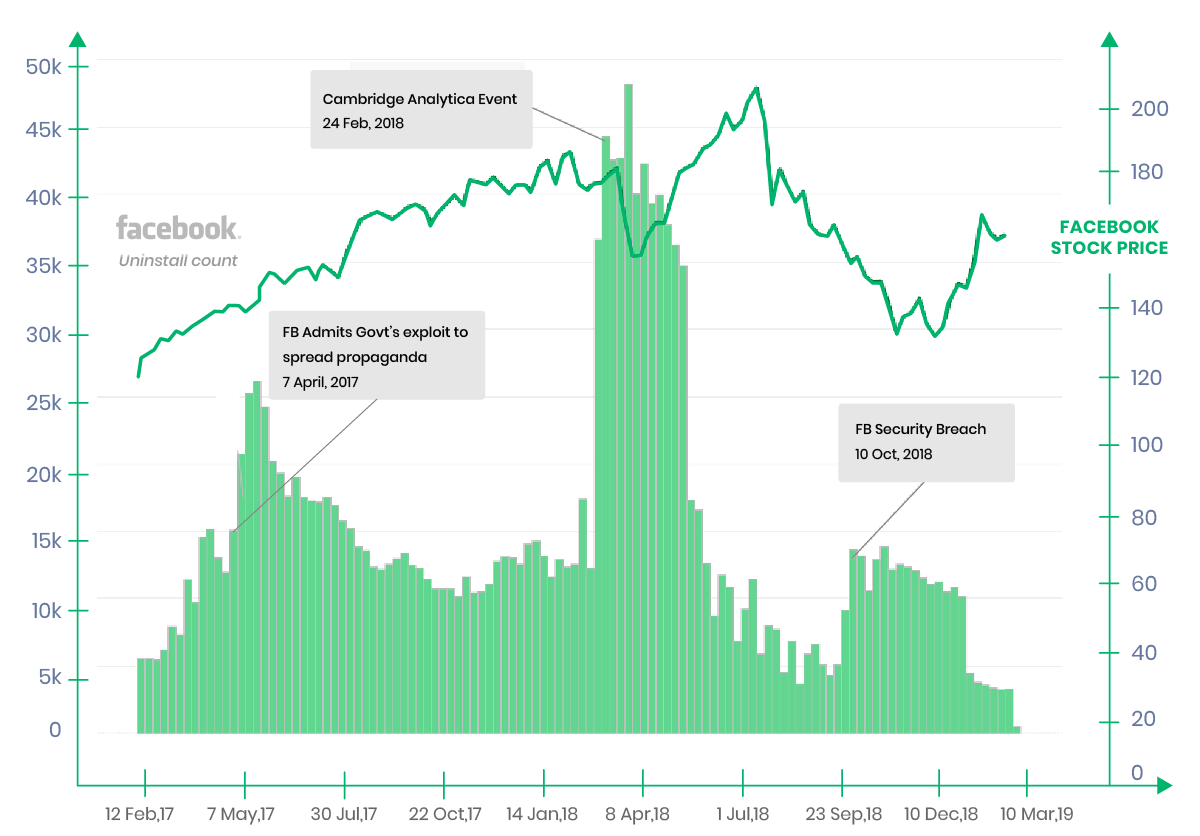 Web sessions are a complementary signal to App Ownership. TruFactor Web Session intelligence aggregate session information per http host, providing a summarized (and anonymized) view of a user's browsing behaviors. This intelligence includes the number of sessions, length of session, and megabytes transferred.
For example, as we've moved to remote work, you don't need to buy a dataset to know that usage collaboration apps have skyrocketed. Trending App installs shows an uptick for sure, but again, the correlation between the stock price of Zoom and the rolling 15-day average of daily activity usage (bytes as a % of total bytes per day) is quite stark.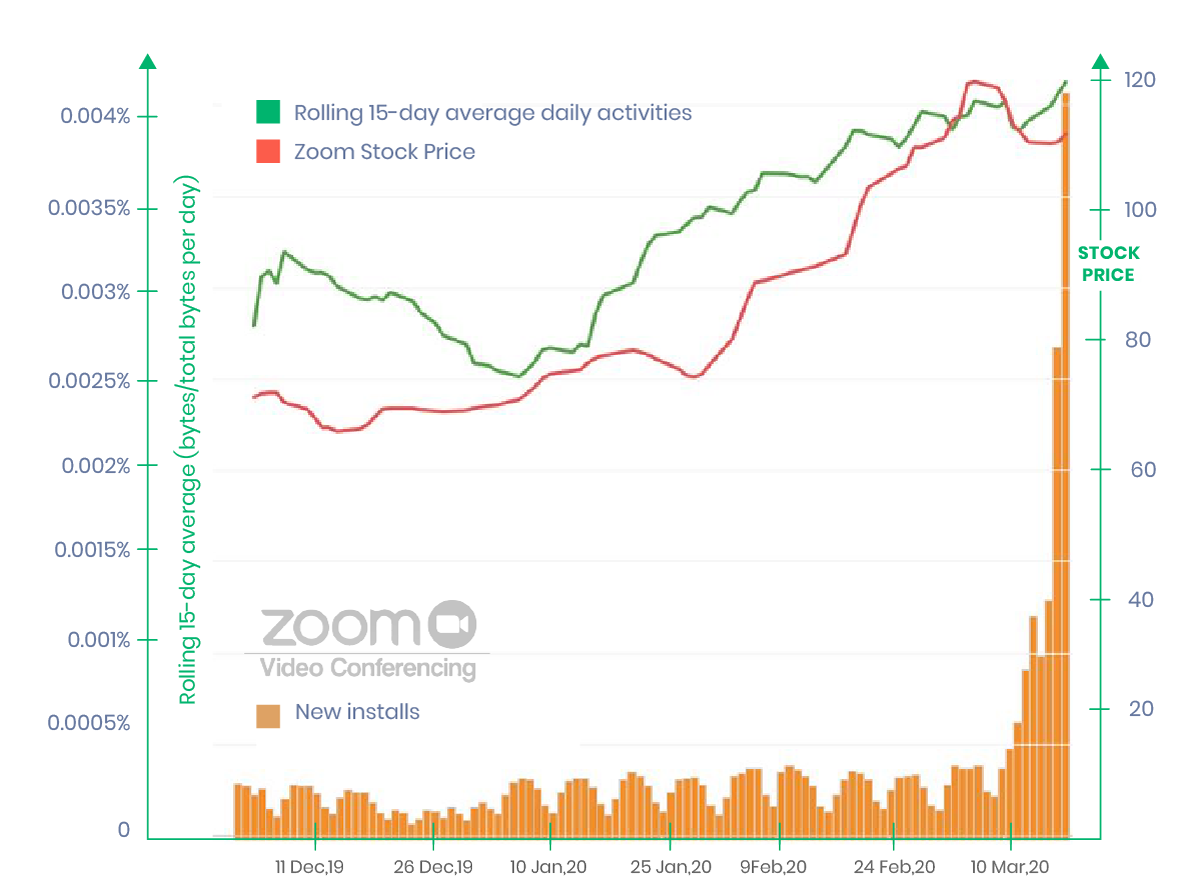 "Phygital" - the Secret Sauce
We've all heard (and in most cases experienced) the run on grocery stores in the mad stockpile. The spike on visit data isn't surprising. What is unique and surprising to anyone familiar with alternative data sources is the accuracy, granularity, and trending of the visits index. This chart shows an index of same-store visits – without needing any sophisticated extrapolations or modeling.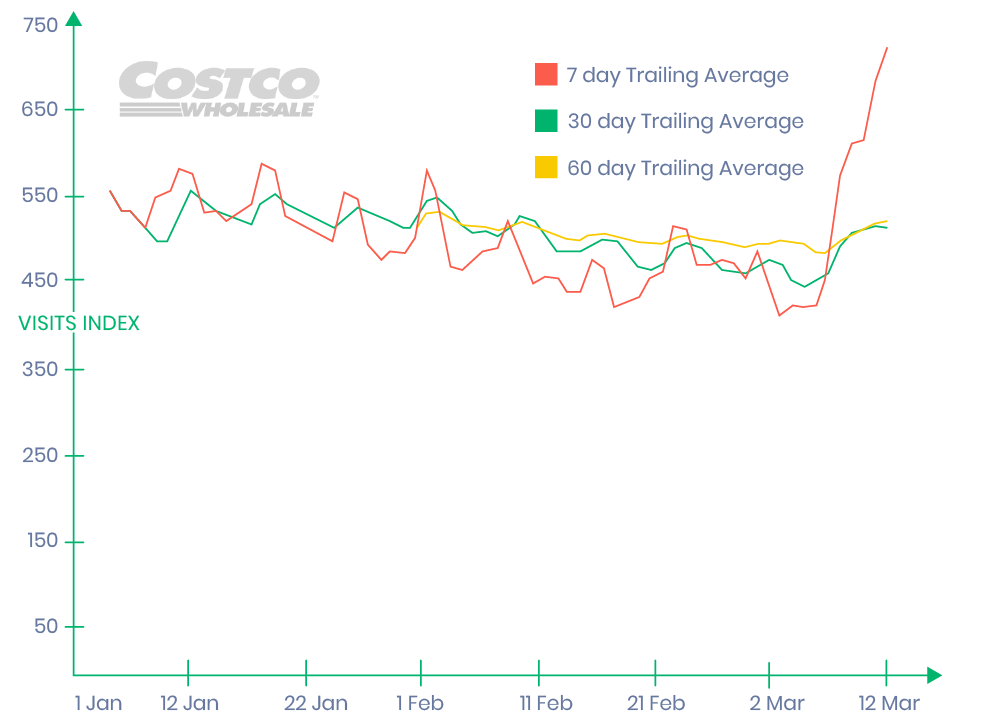 Layering in digital signals to understand consumer demand shows that 7-day moving average of unique users dropped in mid-Feb and steadily climbs while 7-day moving average of web session length has not shown an equivalent spike. This chart shows national-level trends but can be cut to specific geos and compared to physical visits.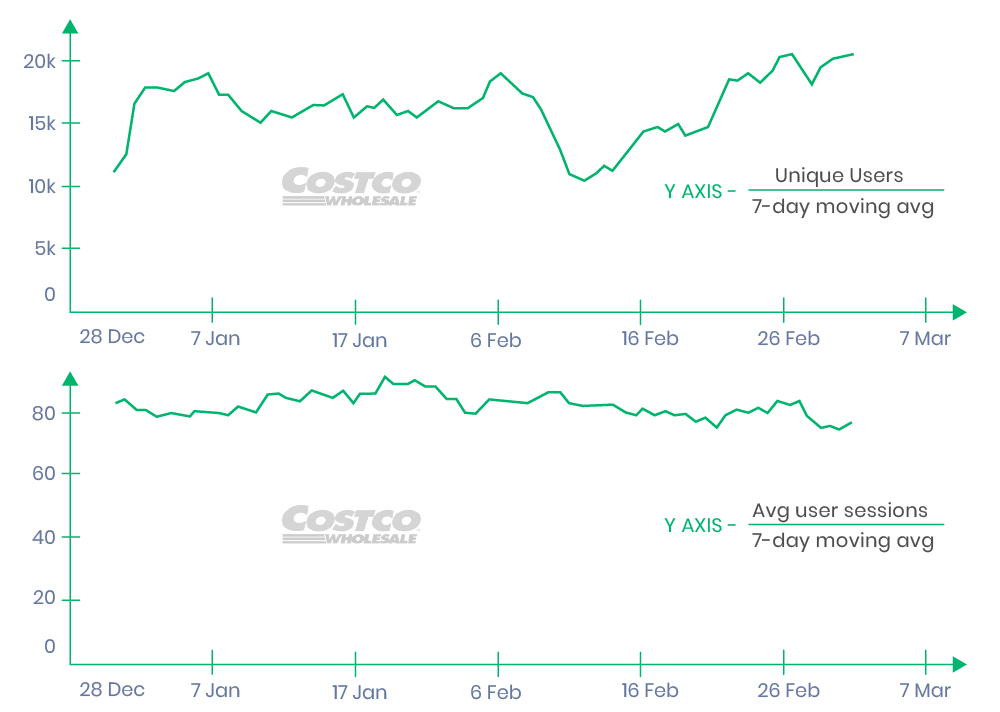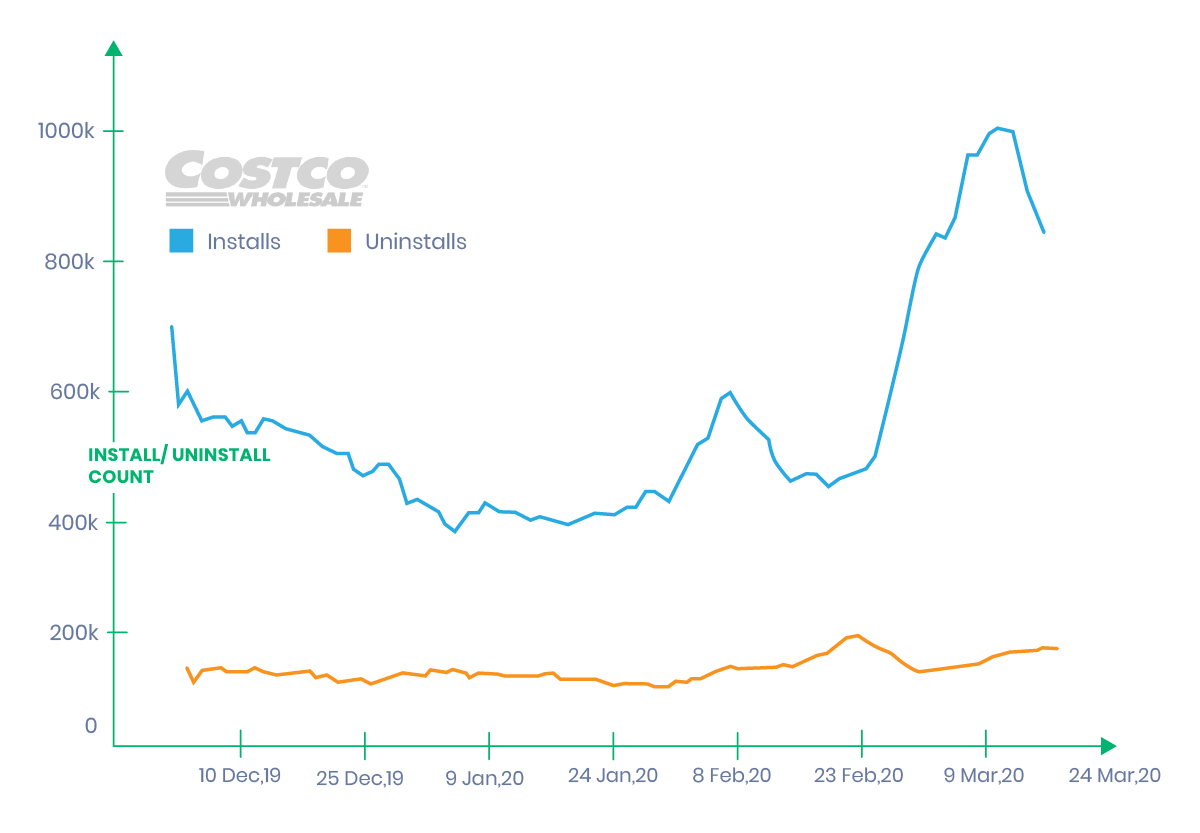 Rounding out the picture, the App install 7-day moving average shows an uptick in installations and no major changes in un-install behavior. The increase in installations is likely correlated to consumer anticipation of store closures. The combination of the store visit, web, and mobile app data thus combine to show a holistic view of consumer behavior digitally and physically.
We like to use the term "phygital" to represent the powerful combination of the physical and digital worlds. While the buzzwords "omni-channel" and "unified view of the consumer" have been bandied about since the inception of the web, it's truly rare to find a single source of intelligence with location, demographic, and digital signals. Most data scientists spend hours (some estimate more than 80% of their time) cleaning, processing, and manipulating various datasets to cobble together a working view. With little to no extrapolation, data scientists can tap into a single source of intelligence with a breadth of attributes and the scale to deliver the necessary accuracy to generate alpha for even the most complex models.
Choosing the Right Intelligence
TruFactor processes more than 100 TB of raw data from wireless carriers, OEMs, and mobile apps. Moving beyond simple mobile SDK or location data, TruFactor identifies unique signals. These new data sources are evaluated against a stringent criterion of:
Lineage – accurate data processing from source through delivery
Consent – verified consumer consent from source
Persistency – enabling consistent trending
Scale – representative scale for extrapolation
Depth – unified view of datapoints for a single user
Density – high frequency of data collection over a long enough period
The robustness of the underlying data source and the advanced computational modeling applied to these data ensures that TruFactor intelligence delivers the earliest indicators of consumer behavior and generates alpha.

James Koenig, Expert in Data Privacy, Joins TruFactor as Strategic Adviser
Appointment is First Step in Building Industry Advisory Board to Develop Data Privacy Best Practices
TruFactor is excited to welcome James Koenig as its newest strategic advisor. An accomplished lawyer, serving as the co-chair and partner of the Privacy & Cybersecurity Practice at Fenwick & West LLP, Jim has been a proven champion of data privacy for over 20 years. Working across emerging startups and Fortune 100 companies, he is an expert in privacy and security law, with recognition from Chambers Global and The Legal 500. Jim is known for helping companies meet the highest compliance standards, but, more importantly, for developing industry-leading best practices balancing accomplishing business objectives while respecting consumer privacy.
Beginning his relationship with InMobi Group in 2017, Jim has been an integral part of the TruFactor journey since its founding. He worked with the TruFactor leadership team to incorporate feedback from government agencies and design the privacy-first guiding principles that have shaped the company. We sat down with Jim to talk about his goals as TruFactor's newest strategic advisor and what he sees as the key trends in data privacy.
Can you tell us more about your areas of legal focus?
Jim Koenig: I'm currently the Co-Chair of Fenwick & West's Privacy and Cybersecurity Practice, focusing on global privacy compliance, security and breach response, and data use policies. My job is to work closely with companies to develop their strategy, approach, and overall privacy charter. My true passion is helping companies bring innovative technologies such as AI, IoT, blockchain – and their applications in autonomous vehicles, smart cities, digital health, etc. to market while maintaining robust privacy, compliance and security standards.
What drew you to privacy as it relates to data?
Jim Koenig: My experiences range across technology and business, as well as the regulatory side. With the explosion in data creation and usage, how we approached privacy changed and became more critical. I knew that my cross-disciplinary background would be valuable in helping companies balance tech innovation, business priorities, and consumer needs.
It's been exciting to be part of that evolution. 20 years ago, we were considered "privacy and compliance geeks." Now, it's commonly accepted that companies need to place equal importance on their approach to privacy as they do on core technology.
What are some key trends you're seeing in privacy and the use and sharing of consumer data?
Jim Koenig: On one hand, consumers are tired of bothersome ads offering discounted plane tickets for the trip you took six months ago or are uneasy about web and mobile tracking and targeting technologies. On the other, AdTech and the promise of machine-learning and AI innovative businesses (such as safer connected cars and autonomous vehicles, digital health/personalized medicine and just in time, relevant and customized advertising) can only be achieved by building new algorithms and data models based on large data lakes. From my discussions with industry leaders, using new data models and innovative privacy-sensitive data analytics and AI approaches are key to rebuilding consumer trust around the use and sharing of their data. As trust is restored, it will enable the building of the databases needed over the next couple of years for companies to deliver safer roadways, improvements in health and quality of life, and smarter and more relevant advertising messages.
What motivated you to join TruFactor as an Adviser?
Jim Koenig: I've been advising the TruFactor team since they originally conceived of the business and have watched them pioneer the category of Intelligence-as-a-Service.
There is tremendous change and increasing uncertainty in the treatment of carrier and mobile app data. This extends to understanding how this data can be used responsibly and the benefits of applying this data across a variety of use cases.
TruFactor seeks to democratize access to aggregated and predictive intelligence, removing one of the biggest obstacles blocking the application of AI to improve consumer experiences. For example, this intelligence can be applied to travel demand models for smarter urban planning or identifying under-served segments or locations for new service or retail offerings. Access to hiqh-quality intelligence, in a responsible and privacy-first manner, will accelerate innovation across companies of all sizes and enable the "use cases of the future" to be realized today.
In the new data-driven economy, we're at a unique moment in time where there is an opportunity to unite stakeholders across business and tech to address the challenges of data and privacy, and collectively realize the promise of new digital health, autonomous vehicle, gaming, and other new technology-enabled businesses. Similar to how I help co-found the International Association of Privacy Professionals (IAAP) 20 years ago to build a body of industry best practices, one of my goals in joining the TruFactor Advisory Board is to help build an industry think tank consisting of wireless carriers, mobile and ad-tech, consumer advocacy groups, and application and platform providers innovating in the AI space to collaborate and develop best practices in this rapidly innovating and evolving space.
Considering recent global regulatory enforcements focusing on companies failing to acquire consumer consent in reselling data, what recommendations do you have for companies?
Jim Koenig: I would assume that the regulatory environment is going to evolve and become increasingly complex. It will be important to "future-proof" your data privacy systems and policies to ensure flexibility and ability to adjust to new laws and regulatory enforcements. It also is critical to identify partners that share your focus on consumer needs and bring deep expertise in privacy and managing data.
More broadly speaking, rather than taking the old school approach of building and using large databases of identifiable information, many companies are now using innovative technology and approaches to derive more insight and value from data while applying responsible data techniques – i.e., aggregated or anonymized data sets. Allowing companies to do more with data to better understand and meet consumer needs while maintaining consumer trust.
Conclusion
We are honored to have Jim join as a Strategic Adviser and validate our privacy-first focus, technology, and processes. We're confident that Jim's guidance and expertise will fit seamlessly into our leadership team and are eager to continue having him as a valued member of TruFactor. Congratulations again, Jim!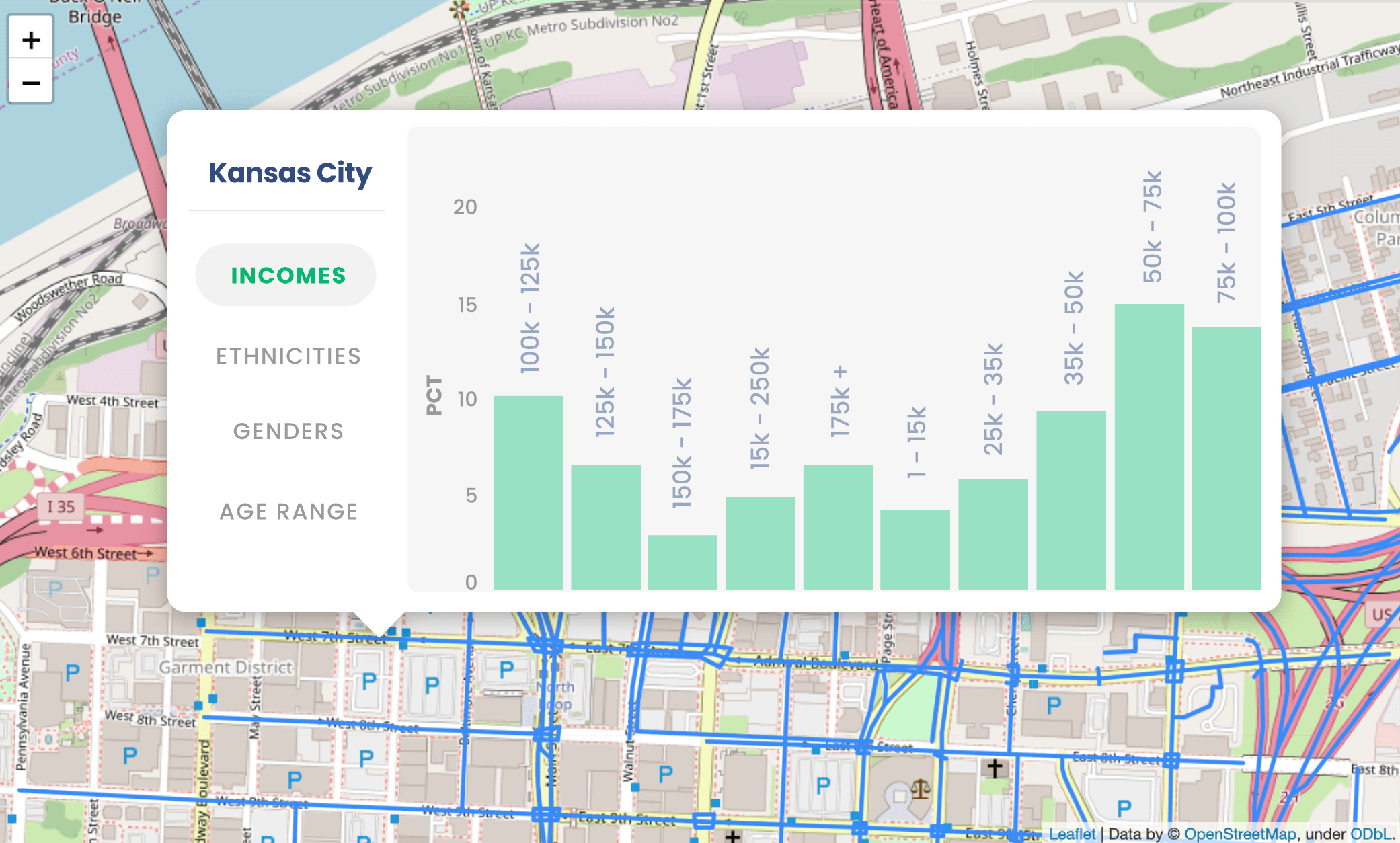 Spending on out-of-home (OOH) advertising is projected to grow to $8 billion this year, capping an impressive 9 years of consecutive growth. Outdoor media continues to reach customers while they're out and about and isn't showing any signs of decline. In contrast, TV, radio, and print spend are all contracting. In fact, OOH spend should exceed print spend in 2020.
With this growth comes pressure on measurement. Technology improvements have improved the amount of data that can be collected, but we still struggle with what is measured and how it's measured. Brands know their target audience – with more precision than ever before – but finding those sweet- spot boards – that capture not just eyeballs, but the actual audience, remains elusive. Even more importantly, it's difficult to understand how results were measured (especially when compared to the given the transparency of digital campaigns).
In this blog, we share an innovative approach to digital measurement for OOH campaigns, leveraging a new source of intelligence that processes and transforms 85 billion location and behavior signals daily. First, we define the methodology for accurately counting people passing through the billboard viewshed and paths of travel. Then, we discuss layering demographic behavior and digital interests to present a complete view of the audience targeting and measurement. You can follow this same approach using trial of TruFactor Route Intelligence on AWS Data Exchange.
Where and How Many Viewers
Most board operators are familiar with local patterns - location of main traffic arteries, general commuting paths, proximity to heavily trafficked areas, and roughly where consumers live by demographic. As helpful as this information can be, it can also be deceiving. You may know the general concentrations for rush hour, but what if the best customers for your advertisers don't utilize these paths?
Truly understanding the habitual commuting paths is vital to connecting in ways that matter— right place, right time, right message. We start with understanding location with Routes. A route is a navigable stretch of highway, sidewalk or rail. TruFactor leverages Open Street Map's underlying database and then overlays population intelligence.
First, let's look at what exactly a route is. The file structure is extremely simple. A route consists of an identifier (a "way" in OSM parlance) which can be dereferenced to get actual coordinates and metadata about a route and the extrapolated # of users of that route. Users are the estimated number of people in the US population that traversed the route.
root

|-- way_id: long (nullable = true)

|-- users: integer (nullable = true)

The example below processed the OSM way file and plotted the "ways" around Kansas City's TruFactor office. Ways have associated metadata and we are focused on the nodes which are a series of coordinates. These coordinates make up what is referred to as a LineString and this structure effectively maps route data in the physical world, including traffic patterns.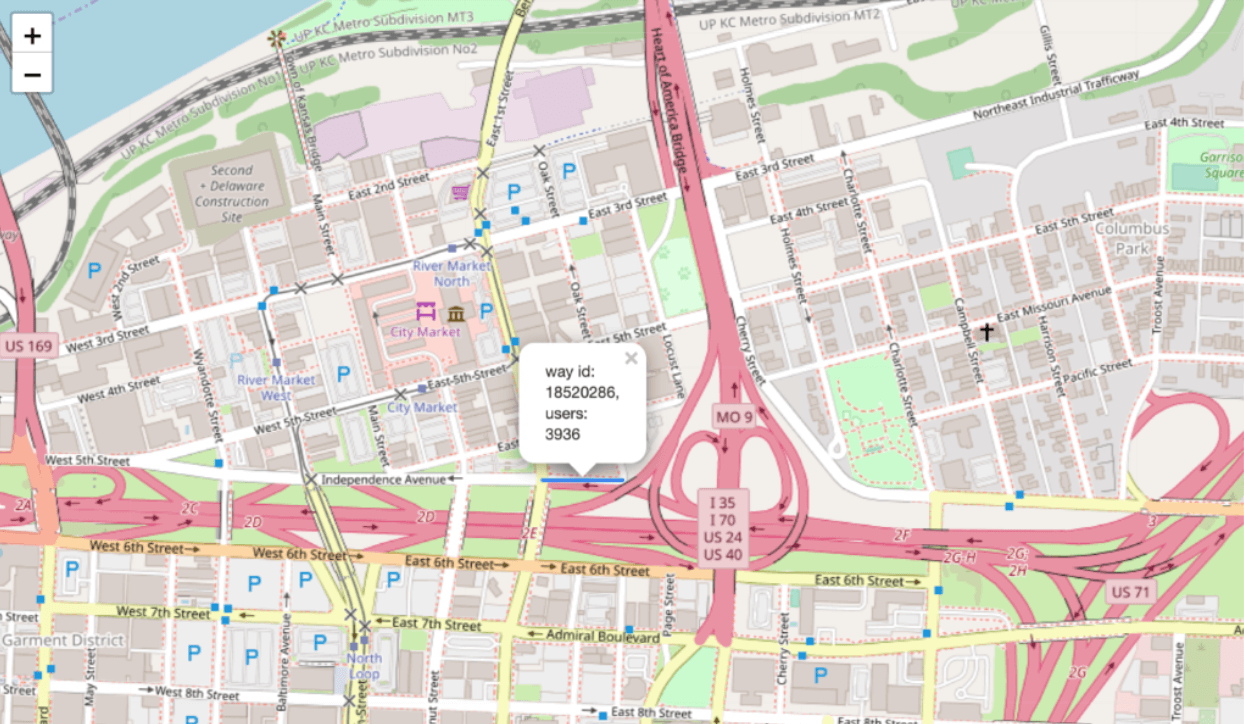 In OOH terms, we then need to define the viewshed - the geographic boundaries from which a billboard is viewable. Leveraging information about the billboard such as its viewshed and facing, it is possible to tag routes which are viewable and thus get a count for how many people may have viewed a particular board.
The viewshed is matched to the physical world via routes with matching logic. The matching logic depends on the need. For instance, weights could be applied based on the speed of travel or viewing angle. TruFactor Routes Intelligence includes options to support any level of complexity. A straightforward example would leverage the viewshed and board facing as shown below.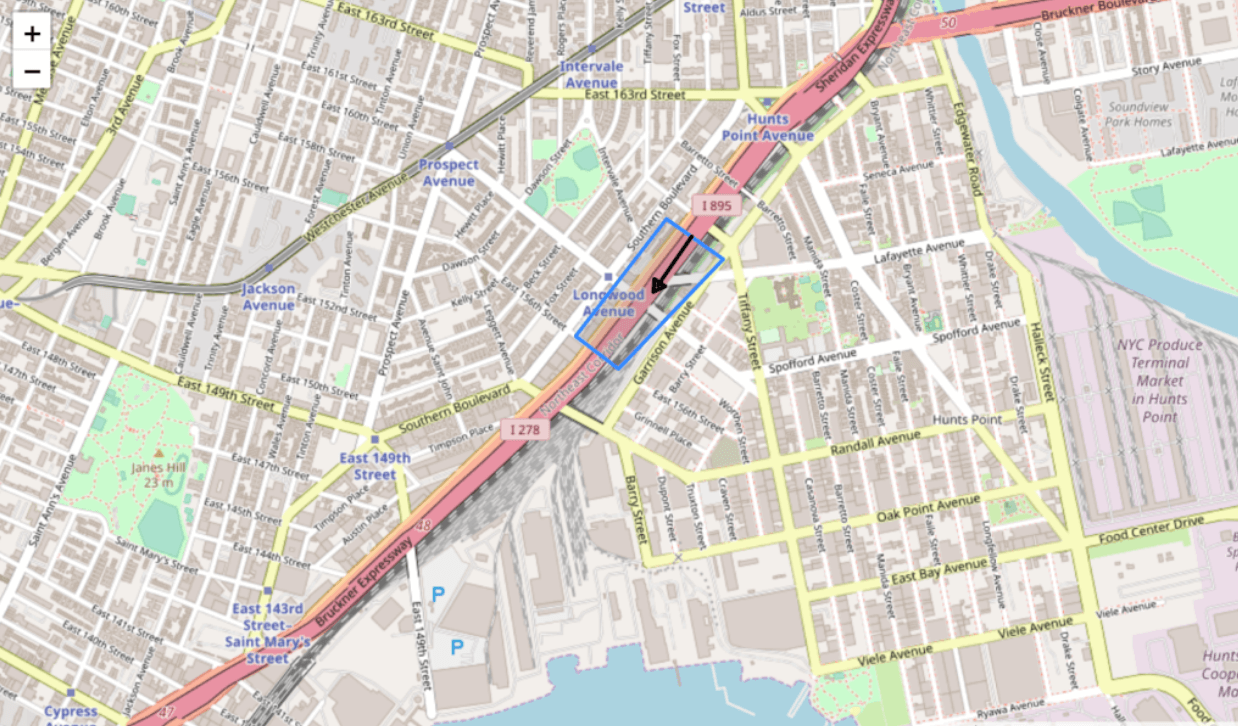 Next, we need to find the routes that intersect with the viewshed. We can find those by leveraging a hierarchal geospatial library that allows us to find things near each other. Once we find near routes, we can actually check to make sure they intersect.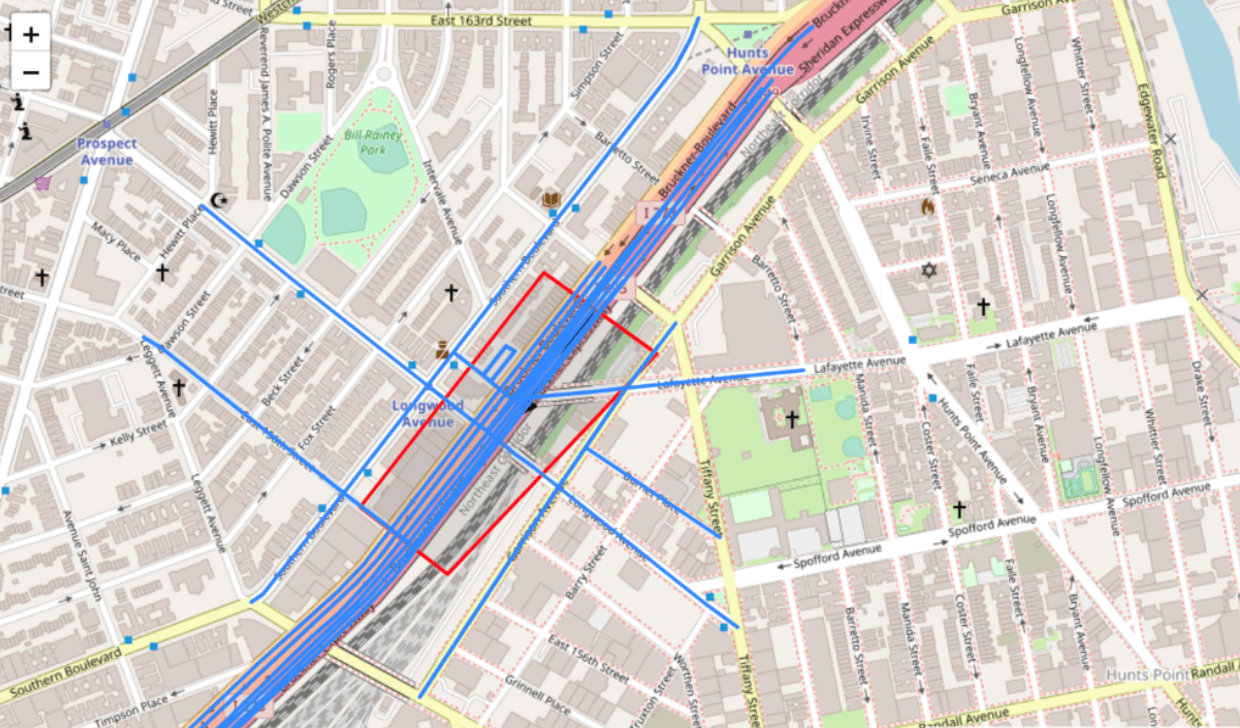 From the above plot it is evident that there is a significant number of routes which intersect with the viewshed. We eliminate those routes that are perpendicular to the viewshed and any route which does not allow a driver or walker to view the billboard. To do this we can check the bearing and eliminate routes which fail to conform to some threshold. Additional checks can be performed to remove perpendicular routes.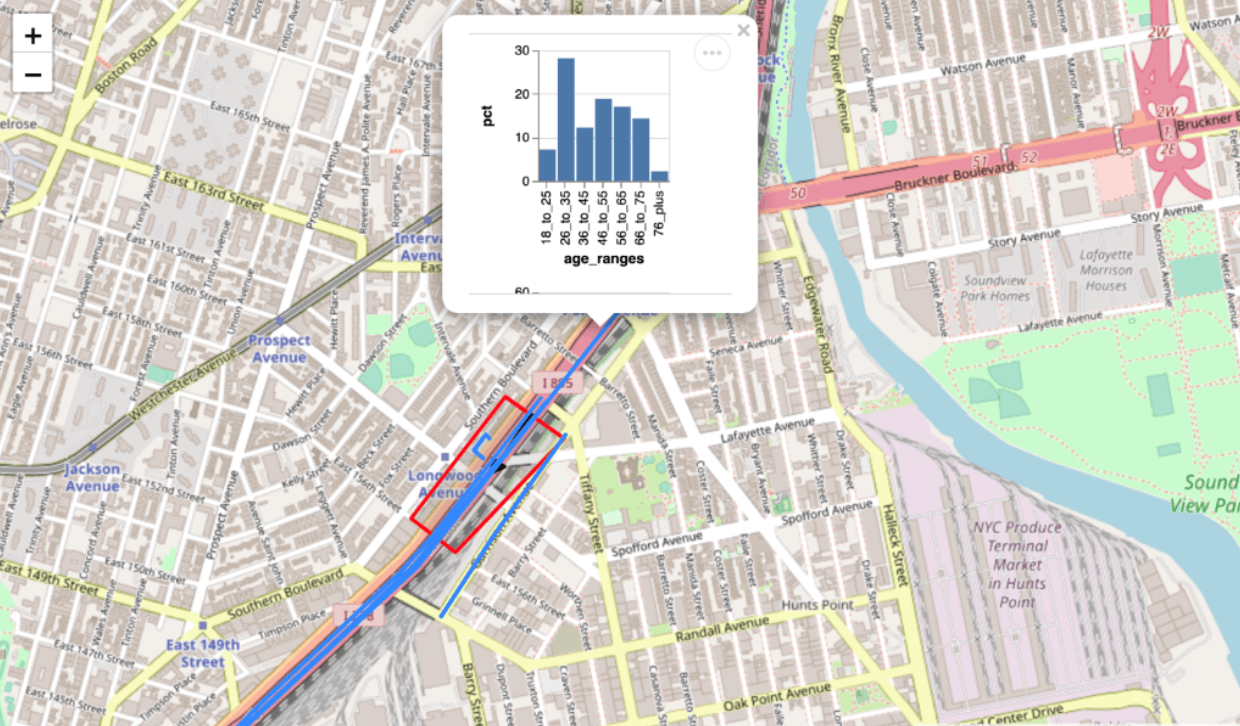 Thus, TruFactor Routes intelligence delivers the "who and how many" are in the viewshed as well as the path taken, and origin and destination catchment areas.
Who Are The Viewers
Now that we've identified Routes intersecting the viewshed, we can layer in population intelligence. This population intelligence includes
- Population count of people traversing a route
- Demographics about that population - Age Distribution, Gender Distribution, Income Distribution, Ethnicity Distribution, Home Census Blockgroups
- The population's interests - Browsing Interests and App Behaviors
- And their Offline Behaviors - Visits to Points of Interests and other destinations

TruFactor intelligence entities go beyond counts and frequencies to understand the audience in the viewshed – how they think, act and move in and out of home. When paired with behavioral, app and web data, we can pinpoint the when and where for reaching consumers who have an intent to engage.
By layering mobile web, application and persistent location data on top of base demographics, we're able to further flesh out the behavioral elements of consumers. Application data uncovers what apps consumers are installing, uninstalling, and using to indicate audience interest and predictive behaviors. Mobile web behavior reveals what's top-of-mind for consumers - what they're thinking and searching for moment-to-moment.
Understanding the complete picture of consumers – their behaviors, who they are, where they came from and where they're heading – informs how and where advertisers should engage.
Start a trial of TruFactor Route Intelligence and TruFactor Demographic Intelligence by Route to understand how to take advantage of more precise and powerful digital measurement in Out of Home advertising.

With 2019 behind us and almost 12 months since the public launch of TruFactor, it's the perfect time to reflect on our progress.
Customer Momentum
TruFactor grew at 2.5x this year! While sales traction is incredible, we're even more excited about the diverse applications for TruFactor Intelligence-as-a-Service across verticals.

The breadth of verticals validates the hunger for application-ready intelligence. Leading customers are using TruFactor intelligence to power AI-first models and applications. For example, in Out of Home Advertising, TruFactor Intelligence-as-a-Service delivered new levels of accuracy in measuring media impressions and consumer profiling. In Investment Analytics, TruFactor intelligence was applied to earnings prediction models. In Transportation and Urban Planning, TruFactor expanded to touch platforms in 10+ cities across the US.
We also worked closely with our existing customers to drive our future roadmap. Direct customer feedback led to the release of 6 new APIs since July!
Most importantly, TruFactor Intelligence-as-Service served as a catalyst for AI transformation in the public sector - an often overlooked vertical. Historically, many agencies and governments have been unable to harness cloud, AI and mobile technologies because of shrinking budgets and resources.

It is incredibly gratifying to see the adoption momentum and impact that TruFactor is delivering!

New use cases for the application of TruFactor intelligence in economic development have also been identified, including measuring usage of recreational nodes (i.e, trails), infrastructure improvements, or public/private investments (i..e, stadium construction)
Product Innovation
We had a record year of launches and product innovation with: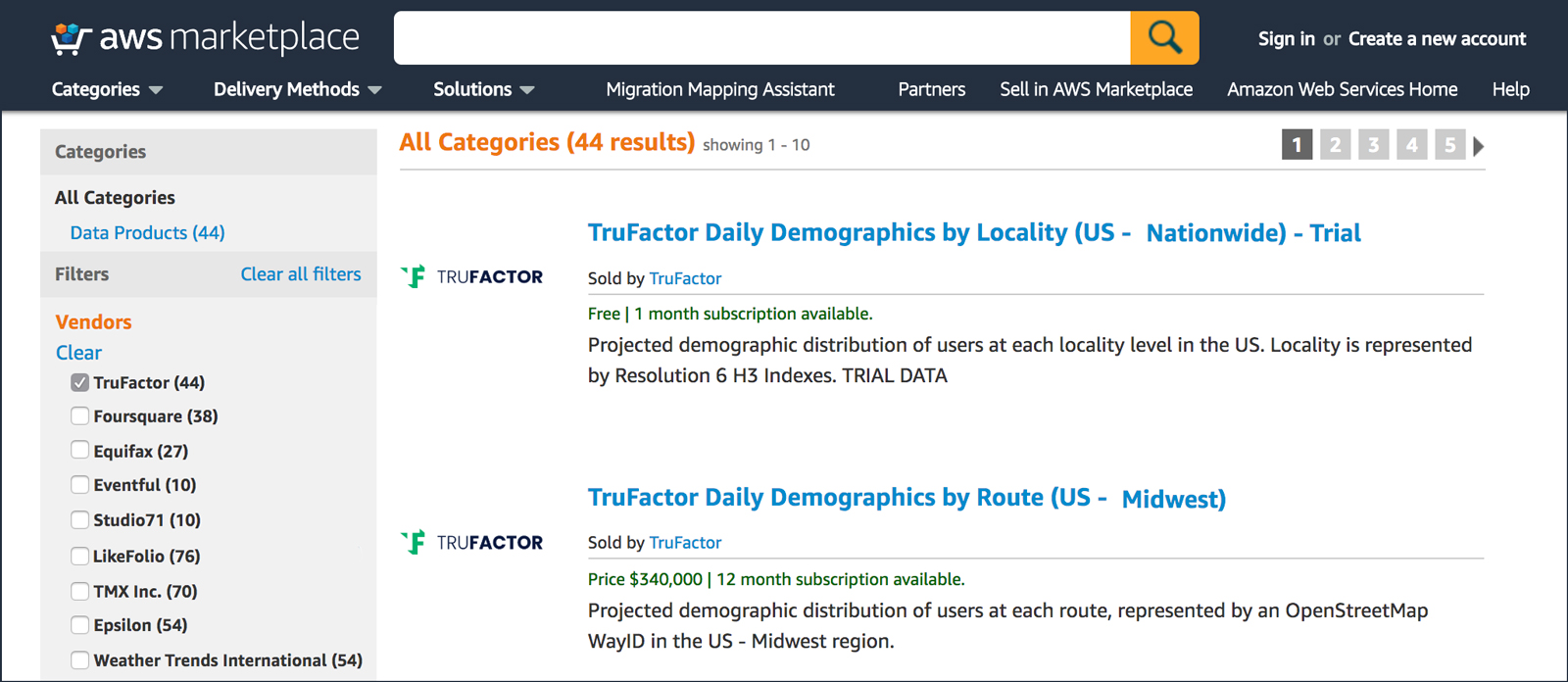 The AWS Data Exchange is a new service that makes it easy for millions of Amazon Web Services customers to securely find, subscribe to, and use third-party data in the cloud
Continued Commitment to Privacy
Recent research on consumers continues to confirm that the "3 Ts" are paramount: Trust, Transparency, and Types of Data. Built on the pillars of "Truth" and "Fact," TruFactor continued this focus with several key initiatives.
Extensive preparation for CCPA including an updated privacy policy and implementing new workflows and improving existing processes for even tighter controls
Regular reviews with an independent third-party monitoring agency to ensure adherence to privacy, security, and compliance policies
On-going engagement with government agencies
Delivering industry-leading practices for data governance and publicly sharing the approach in a whitepaper
Building The Team
The TruFactor team continued to grow with new members joining across four cities: Kansas City, Seattle, San Francisco, and Bangalore. TruFactor expanded into new office space in Kansas City to improve the collaboration and serve as the foundation for long-term growth

Team celebrating in the new Kansas City office
Strategic Partnerships

TruFactor expanded its partner ecosystem significantly in 2019 to improve ensure a seamless, cloud-native experience across platforms.
TruFactor deepened its partnership with Microsoft with the launch of a joint program for partner recruitment, on-boarding and support. One of our joint customers delivering a public safety platform was also featured in the Microsoft Inspire 2019 keynote (Microsoft's annual partner conference).
"TruFactor has integrated with three of our core business pillars: cloud, AI and user privacy, TruFactor's solutions enable our broader ecosystem of ISV partners and enterprise customers to create and deliver new, breakthrough experiences."
- Gavriella Schuster, Corporate Vice President, OCP, Microsoft
We also announced a new partnership with AWS. TruFactor participated as strategic launch partner for the new AWS Data Exchange and is working closely with the product teams on the evolution of this innovative new marketplace that provides the foundation for scaling machine learning with high-quality data sources. AWS users can now easily find and subscribe to TruFactor Intelligence-as-a-Service and seamlessly take advantage of AWS analytics and machine learning services.
"Data scientists and developers depend on aggregated consumer intelligence for diverse use cases including customer journey mapping, investment analytics, urban planning models, and site location optimization."
- Stephen Orban, General Manager, AWS Data Exchange, Amazon Web Services, Inc.
The past 11 months of momentum has validated the power of TruFactor vision. We are committed to empowering data scientists to leverage consumer intelligence safely and seamlessly to power AI applications and platforms of the future. We are thankful for the support of our customers, partners, and employees as we embark on 2020!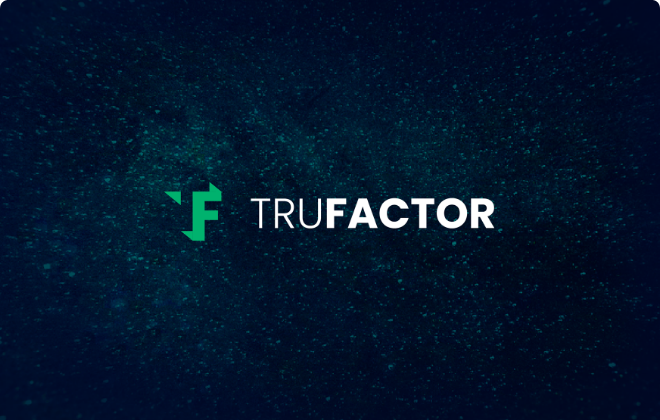 Democratizing privacy-first intelligence-as-a-service for data scientists
As InMobi Group enters our next stage of innovation, we are creating three core business entities under a single holding group. The businesses will operate as separate entities - InMobi – the Marketing Cloud for CMOs, Glance - the world's first Screen Zero content platform for consumers and TruFactor - an Intelligence-as-a-Service platform for enterprises. The broader mission of InMobi Group remains the same - to power intelligent, mobile-first experiences for enterprises and consumers. The business entities will be run as independent companies, with dedicated leadership, P&Ls and growth paths, to accelerate innovation and execution.
I am honored and excited to lead the TruFactor team going forward. At TruFactor,
our mission is to empower data scientists and developers to leverage unique consumer intelligence safely, securely and seamlessly.
Here, I wanted to share more about the TruFactor journey (and I encourage you to visit our
website
for more details!).
At InMobi Group, the focus in the last 11+ years has been to leverage mobile intelligence to power marketing and advertising solutions to our customers. Through this, we developed strong expertise and technology – be it data platforms for handling complex data, proprietary AI, as well as robust governance practices. This mobile-first expertise, when coupled with the deep telco-first domain experience and technology from our acquisition of Pinsight Media; became a very powerful combination.
As we have shared our technology with customers and partners in the advertising and marketing ecosystem, we realized that there is a broader, unmet need for this unique, always-on, mobile intelligence that TruFactor can focus on.
Enterprises that want to evolve their products into better consumer experiences via AI increasingly need seamless access to complementary data.
This is true especially in key industries –
such as retail, real estate, transportation & urban planning & financial services
- where the demand for data and potential for disruption is high.
Harnessing and utilizing consumer intelligence at scale is currently limited to tech companies or enterprises with enough technical resources to manage the massive complexity involved. TruFactor aspires to change that. We want to "democratize" access to consumer intelligence,
in a privacy-first framework; for enterprises, ISVs and developers.
TruFactor sits at the intersection of mobile data, AI, and privacy. The TruFactor platform transforms millions of raw signals and mobile data into secure,
'shovel ready'
& actionable intelligence. This consumer intelligence is ready to use – either to create or augment existing software products or platforms. Or, it can be utilized within enterprises to generate new revenue streams or disrupt business models.
Last February at Mobile World Congress'19, in partnership with Microsoft, we
announced
our first TruFactor offering. This launch of a secure data platform for telcos addressed a global challenge for telcos - helping them manage their data in a secure and responsible manner, while driving growth. Purpose-built for telcos, the platform delivered large-scale data management, user privacy framework, and platform for unlocking new revenue models.
InMobi partnered with Microsoft to use Microsoft Azure, the tech giant's secure-data platform, in a bid to assure telcos of TruFactor's enterprise-grade security at scale, as well as its use of machine learning.
Ronan Shields
|
Since then, we have added more partners and customers using the TruFactor platform. We showcased this momentum this past week at Microsoft's flagship partner event, Inspire. Last Monday, Gavriella Schuster, Corporate Vice President for One Commercial Partner, showcased one of TruFactor's early launch partners in her keynote to over 20,000 attendees.
And now, I am officially announcing the creation of the new TruFactor business entity! You can learn more about the TruFactor platform and its vision to empower data scientists and developers to leverage unique consumer intelligence safely, securely and seamlessly at trufactor.io.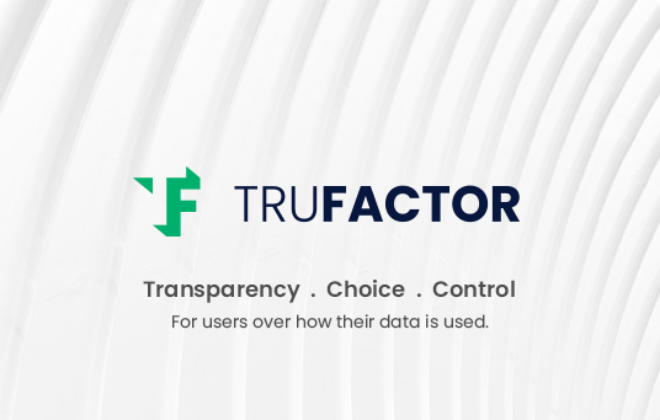 "All of us will have to think about the digital experiences we create to really treat privacy as a human right" - Satya Nadella, Microsoft CEO.

In a world of connected devices, data is being generated with ever increasing velocity, variety and volume. Every time we go online, or even when we don't, we generate a digital trail. The extent of our digital trail depends on the portfolio of digital services we consume. More often than not, owners of this data - consumers - are often not in control of their data.

One industry that particularly stands out for the volume and velocity of data it generates is the telecommunications industry. The velocity and volume of data that telcos have to deal with as a natural consequence of their services is humongous.

Managing user privacy has always been a focus area for telcos. The issue has gained prominence, in recent times, given the explosion of data and the rise of data-rich businesses. Large enterprise businesses, including telcos, now have a strategic imperative to treat data with care and responsibility, else they risk losing the trust of their customers.

The telco industry has been undergoing seismic changes internally and externally. Demanding customers, rising infrastructure investments, upending of traditional business models, and increasing regulatory scrutiny have meant that telcos need to take a fresh look at their business. They need to manage their data in a secure manner and give subscribers the control and choice that is rightfully theirs, while unlocking new revenue streams for themselves.

As an integral part of the mobile ecosystem for the past 12 years, we understand what it takes to securely manage and process data at scale. Through our acquisition of Pinsight Media, a formerly wholly-owned subsidiary of Sprint, we have inherited platforms, purpose-built for telcos, and a team that has more than 140 years of combined experience in implementing data management and user privacy for telcos.

Today, at Mobile World Congress, Barcelona, we launch TruFactor - a business unit of InMobi Group. TruFactor brings together two teams, platforms, knowledge and experience in order to address a global challenge for businesses - large-scale data management and user privacy, while driving growth. Built with consumers and businesses in mind, TruFactor exists at the intersection of truth and fact – emerging as the one true factor that enterprises can trust for growth.

Through TruFactor, the InMobi Group wants to bring to market secure and scalable data platforms, user privacy framework and new revenue models - all purpose built for telcos - to help them manage their data in a secure and responsible manner, and drive customer experience and growth.

Over the next few years, we hope to be the catalyst for user privacy, for telcos and other data-rich businesses. This is only the beginning of a journey.